DO TAKE ACTION LAUNCHES DO NYSC NETWORK
The National Youth Service Corps (NYSC) was established on the 22nd of May 1973 with the primary objective to mobilise Nigerian youths who graduated from higher institutions both at home and abroad for nation-building and to prepare them for patriotic and loyal service to their fatherland.  However, Nigerian youths and citizens perceive the scheme with mixed feelings because of the many hassles, challenges, and hardships corps members face during their service year.
For one, prospective corps members (PCMs) are afraid of being posted to faraway states and sent to interior places as their Primary Place of Assignment (PPA) without any clue as to how to safely get to their destinations.
There is also the fear of being rejected by employers in an assigned PPA. Scouting for another PPA to be reassigned is usually frustrating as the Corps members are in an unfamiliar environment, and could pose a security risk.
Also, there is the problem of getting good accommodation in an area with electricity, water and accessible roads. Few employers offer accommodation to their Corps members, but a greater number of PPAs don't.
Then, there is the challenge of personal and professional development. Many Corps members finish their service year without a sense of direction. Many go for NYSC confused about how to maximise their service year for personal and professional advancement.
DO Take Action is launching the NYSC Network to help Corps members navigate through the many challenges and confusions they face during their service year.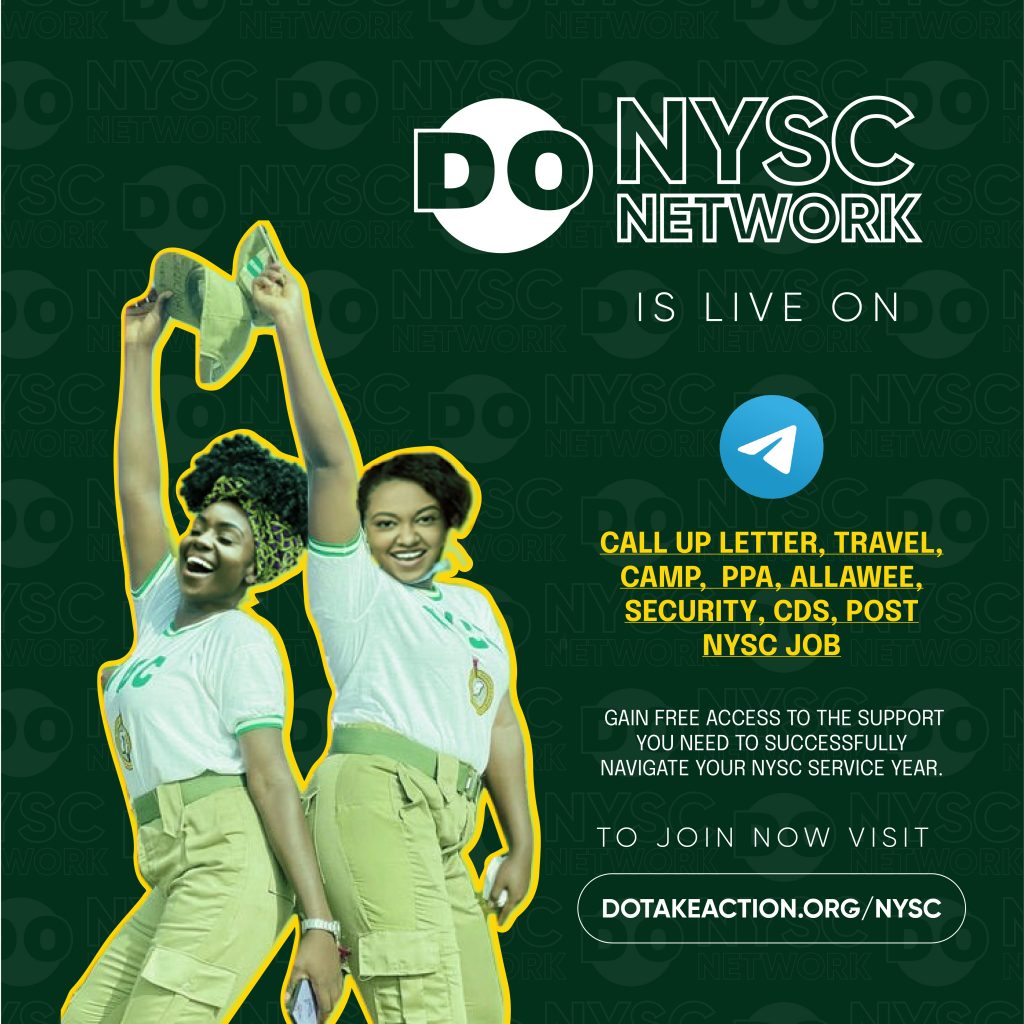 The NYSC Network is a community built as a support system to help Corps Members navigate the entire NYSC process, from Call-up letter, to travel, PPA, Allawee, Security, and CDS. In return, they are expected to commit to taking action to drive sustainable development in their community.
Benefits of Joining DO NYSC Network
Get Information
Get the latest update and information about your Service year from NYSC and other relevant parastatals
Guidance and Support
Get guidance and support on the entire NYSC process, from Call up letter, to travel, PPA, Allawee, Security, CDS, etc.
Opportunities
Gain on-demand access to professional growth and development opportunities that prepare you for life during and post-NYSC.
Social Support & Networking
Social and fun events that afford you the luxury to play, relax, meet and network with smart and interesting people.
Administrative Support
Get a Letter of Recommendation / Reference, and other ancillary support you need to thrive during and post NYSC.
Freebies, Rewards & Giveaways
Get discounts and freebies that show how much we value your commitment to making a difference in your community.
The NYSC Network is a must-join community for any Corps member that wants to make the best out of their service year.
Click here to join DO NYSC Network and get the best out of your service year.
See you on the inside.
Signed:  
Precious Ebere and Century Favour,
Co-Founders, DO Take Action,
Nigeria.
Follow DO across all her social media platforms: